Boat trip in Benalmadena, Malaga
Enjoy a wonderful boat trip along the Costa del Sol, where you can see dolphins, bring your pet, and take a bath in the sea.
Boat trip in Benalmadena, Malaga
Enjoy a wonderful boat trip along the Costa del Sol, where you can see dolphins, bring your pet, and take a bath in the sea.
Book your boat excursion with us
There is something wonderful about Costa del Sol and the sea. You just can't miss a wonderful boat excursion on holidays. Just think about the posibility of enjoy the beautiful views of Malaga Coast and take a nice bath in the warm waters of the Mediterranean Sea.
Depending on the occasion, you can even enjoy the company of dolphins, lovely and fun creatures swimming freely in their natural habitat.
Believe us! With our assistance, you'll practice under responsible angling practices regarding conservation minded fishing, knowing that we will help you in everything you need to know about this special enviroment.
Improve your vacations exploring Malaga coast, having a nice view from a privileged stance on "Yo te espero" bow.
Let us organize your boat trip, checking out our options and hiring our services for the activities we want to offer you.
You can book a day for fishing excursion, or come with your friends and arrange a private journey having the chance to see dolphins playing around.
Do not fall in the same routine! A trip on boat is a must-do when you are in Málaga.
Our departures are from Puerto Deportivo de Benalmádena (Puerto Marina, Málaga)
Location: Dársena de Levante, Atraque 304, Puerto Deportivo de Benalmádena (Puerto Marina)
---
Telephone: +34 673 347 186
---
Email: info@yoteesperoboattrips.com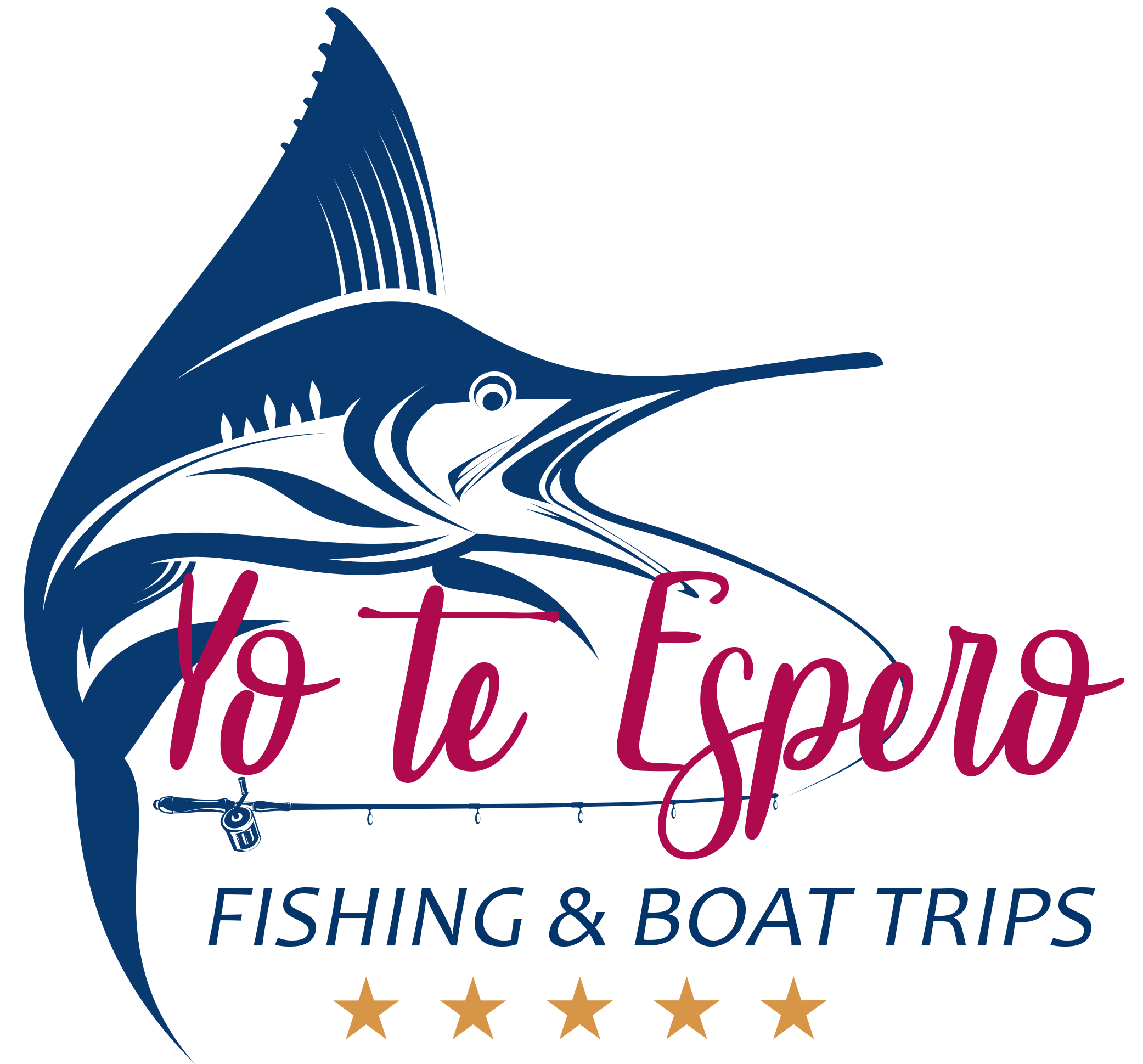 FAQ – Preguntas frecuentes
What is included in the price?
Bath and one drink per person and hour. In the case of fishing charters, a drink per person and hour, fishing accessories and professional fishing rods are included.
Does the boat has a bathroom?
Yes, it is available for all passengers.
Can I take my pet with me?
Of course! Pets are welcome always as long as it behaves well so it doesn't bother other passengers.
Can small children get on board?
It is safe and good for all ages.
Can I get an extra drink?
Of course, it would have an extra cost, ask the crew about it, they will be happy to help you.
I'm an experienced fisherman, Can I bring my own fishing equipment?
Can I take my own food and drink?
Yes, it is allowed to go on board with food and drink. And please, we ask that you keep both the ship and the marine environment clean.
What happens if its not possible to sail due weather or other reasons?
In case the state of the sea does not allow sailing, the departure would be changed to another day that the sea allows us and the client can do it.
What clothes should I take?
We advise you to wear suitable and comfortable clothing and sun protection, especially in some of the activities. Rubber-soled shoes that take the entire foot, a cap with a visor or a hat are recommended.
Am I covered by any insurance?
Yes, the boat has all the mandatory insurance for charter boats.
Would you like to see regions in the Malaga coast aboard out boat?
Costa del Sol is one of the most-visited places in Malaga, that is why boat trips during your vacations are interesting and fun options.
Above all, sailing is a pleasure. And if you can catch a boat ride with your family and friends, it's the best of the best. To feel the salt and the sea breeze cherishing your face, lulled by the murmuring of the ripples. It is an extraordinary feeling.
We invite you to live a truly unique and unforgettable experience aboard our boat and meet the Malaga coast and the sea from another perspective. Boat trips are experiences that never dissapoint, magical activities suitable for all ages.
The sea promenade on our "Yo te espero" boat provides to our clients a unique experience, allowing them enjoy it to the fullest, with our experienced crew always ready and willing to show to the visitor the wonderful places in the Mediterranean sea, especifically in Malaga Coast.
Check out our stunning photo gallery
What does the boat trip include?
The boat trip is one hour long, we offer you a drink on-board (included in the price) in addition to our service you will have the chance to swim in warm, crystal clear waters at open sea. Moreover you could see dolphins, flying fishes and ocasionally, sea turtles in their natural hábitat. We complied with the hygiene quality regulation, so you can bring your own meal and snacks aboard.
We have daily sailings (depending on the weather conditions) You can find us at Marina de Benalmadena, Malaga starting at 9:00 am, scheduling at your convenience.
Come and enjoy with us our boat trips in Benalmádena (Malaga) along the Alboran Sea coast at the time you choose.